August is the perfect time to explore Providence's 116 parks. Our public spaces make up 1/10th of the city – more than 1,600 acres – which is pretty unique given our size. You're probably already familiar with the spots in your own neighborhood, but the Providence Parks Department and partner organizations have been revitalizing green spaces citywide, with playground renovations and new installations like rain gardens, sustainable playgrounds, parkour, skate parks, and much more.
The 1903 plan for the city map had all its parks physically connected; obviously that vision wasn't manifested, but the Parks Department is working to connect them through programming and design thematics that are "uniquely Providence," according to Parks & Recreation Superintendent Wendy Nilsson. Over 25 free public fitness classes are currently offered, along with the Neighborhood Performing Arts Initiative and children's Little Libraries installed in parks all over town.
The Parks Department is deliberately arranging park seating and amenities "in ways that facilitate conversations and connections" while using sustainable materials, best practices in storm water management, and repurposing/reusing whenever possible. Most work is now happening in-house through the department's own design team and builders, making the process more efficient and cost-effective.
"We're making a really big effort to connect children and families to nature, so you might see big boulders, or logs, or berms, or swales," says Nilsson. Aiming to make landscaping more creative and sustainable, "We're looking at what's there and how can we enhance this natural environment rather than take it down and put up something metal or concrete." Nilsson cites Peace & Plenty Park in upper South Providence as a perfect example: a place with logs and rain gardens that is very small "but so well-loved and used in that community."
Whether it's the Parks Department tearing down 12-foot fences and putting in grass in South Providence or the Woonasquatucket River Watershed Council (WRWC) cleaning up and connecting Olneyville's greenways through bike and walking paths, the city's parks-oriented organizations are working hard to create community spaces. Over 50 "Friends of" groups represent their respective parks and advocate for needed improvements to their communities, and the Partnership for Providence Parks works to help manage, organize, and facilitate these relationships and connect them to the resources they need. The Partnership also initiates public art initiatives, like the Unicorns that appeared all over the city several years ago.
The goal was to "begin a citywide conversation around art and possibility," says Helene Miller, the Partnership's Executive Director. When the organization is "doing its best work, it is making new friends and keeping the old," facilitating dialogues with communities about how they want their public lands and green spaces "to look, what they want them to feel like, and even smell like" – such as pollinator gardens for bees. "Anyone can be a friend [of their park], and that's the beauty of it," says Miller, who encourages residents to join their own neighborhood Friends group, where they can advocate for their community, help with litter cleanups, paint, or help with art installations.
"In many ways, the state of the park is a reflection of the relationship" between the community, the Partnership for Providence Parks, and the Parks Department, explains Miller. "It creates a vibrant green hub for people to play, relax, and explore."
The easiest way to find the exact amenities you want is through the Parks Locator map on the Parks Department's website, which allows you to search the corresponding term – or use their Park Story Map to browse by neighborhood and learn the history behind your favorite public spaces. In the meantime, here are some gems worth scoping out.

Playgrounds & Water Parks
Summit Avenue Park in the Hope neighborhood is a shining example of where playground design meets innovation: a little oasis featuring two tiny houses and bridges made out of durable Ipe wood, and a ship's hull for children to play on. Joslin Playground in Olneyville is another exceptional stop for children, with giant boulders, native plants, rain gardens, a shade sail, a small dock and bridges, and a water park slide – not to mention softball, basketball, walking paths, and a handball court. It's also wonderful for biking. At downtown's Burnside Park, the now one year old, nautically themed Brandon's Beach playground features rope obstacles, swings, and musical equipment.
Billy Taylor Park on Camp Street is a more old-school model of a water park, but features a unique teaching garden and a new skate ramp. Fargnoli Park is "wonderful for families," Nilsson says, and will soon have a brand-new baseball field and basketball courts as well as a "pretty spectacular" water park with wooden structures made out of Robinia or Black Locust wood.
Amos Earley Park on Cadillac Drive in Elmwood boasts a tennis court and community garden, while small Pearl Street Park in Upper South Providence received lots of upgrades from the parks department in 2017, with more happening in 2018. India Point Park boasts a newly renovated playground as well as a soccer field, walking trails, access to the East Bay Bike Path, and two large docks for community sailing; it also regularly hosts festivals and other events.

Walking, Hiking, Biking & Sports
Elmwood's famous Roger Williams Park is arguably best known for its Zoo, but the surrounding green, rolling grounds have undergone a transformation in the three years since Nilsson became superintendent. "Come to Roger Williams and fall in love with it again," she urges, mentioning movie nights, free yoga, fountains that change color at night, and the much-used greenway bike track.
Blackstone Woods off Wayland Square is a beautiful tucked-away, 45-acre wooded conservation area that many overlook; some of its trails and amenities were built as part of the the New Deal-era Works Progress Administration. There's no better spot to enjoy downtown than Riverwalk, a stretch of park that follows the Providence River and includes a stop at Memorial Park, a poignant tribute to Rhode Island veterans. Wanskuck Park in Wanskuck is a lesser-known, beautiful 22 acres on the North End of Providence.
Bucklin Park on Dexter Street in the West End has athletic fields and a playground right up the street from Dexter Training Grounds (a.k.a. Dexter Field) by the Cranston Street Armory, which hosts kickball matches, bocce, and chess, and will soon have a major playground upgrade and other amenities added.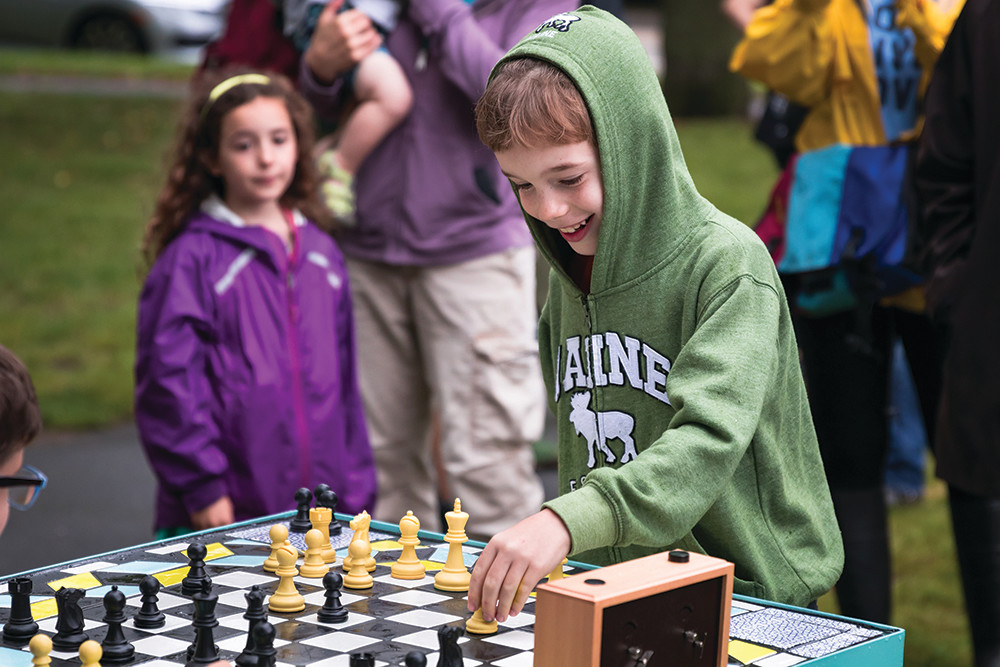 Chess tables at Dexter Training Grounds. Photo by Wolf Matthewson

Wildlife Watching
The Woonasquatucket River Watershed Council (WRWC) has been working for decades to revitalize Olneyville by cleaning up the river and surrounding areas, building fish ladders, and much more. One of its major projects has been to connect neighboring Riverside Park, John Donigian Memorial Park, and Merino Park along the Lippitt Greenway through a new bike path.
"The parks, especially along the Woonasquatucket River, create the only real wildlife corridor in Providence," says WRWC Executive Director Alicia Lehrer. While traveling the greenway from downtown to the West End of Providence, Lehrer vouches that anyone can regularly see great blue herons, ducks, geese, turtles, and fish, as well as enjoy fresher air and stay much cooler in the summer. "You don't have to go to Yellowstone Park or Zion to feel the value of parks and connecting to nature; we can do it right here in Providence with our local parks," Lehrer says – which helps our mental and physical health on a daily basis "while keeping our whole ecosystem thriving – us included."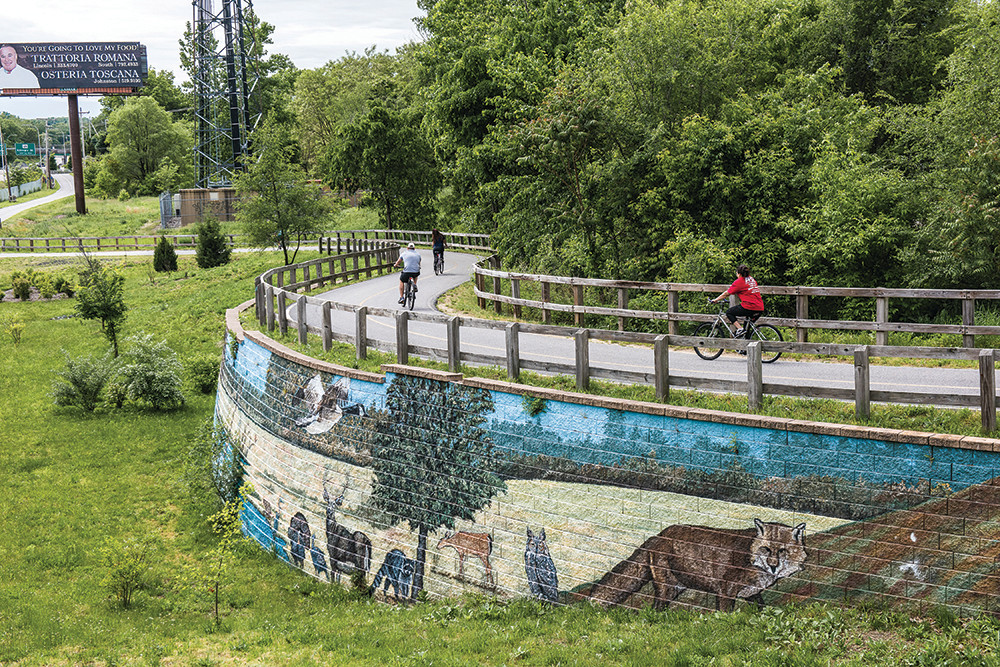 Woonasquatucket River Greenway Bike Path. Photo by Mike Braca

History
Speaking of wildlife, Neutaconkanut Hill Park occupies 88 beautiful acres in Silver Lake, as well as an incredibly important place in our state's history: it was the northwest boundary in the land agreement between Roger Williams and the Narragansett Sachems. It also boasts a playground, two baseball diamonds, a basketball court, water park, and tons of gorgeous trails where hikers can find Native American and Colonial artifacts or even glacial rock outcroppings from the Ice Age. Meanwhile, Roger Williams National Memorial on North Main Street belongs to the National Park Service and honors our state's founder with an informative visitor's center. Randall Park, located as a designated non-burying space within North Burial Ground, is another must-visit for history buffs.

Teen Adventures
The best spots for trying your hand at parkour or skateboarding are Father Lennon Park on Smith Hill (often referred to as Camden Avenue Park), which has custom installations and will be adding a bike track to complement its playground, walking paths, and volleyball courts; Brown Street Park on College Hill, which has parkour elements; and Ascham Street Park in Charles, which has parkour-like equipment for younger children, a new massive mural painted by local and regional artists, as well as a playground and softball field. Trinity Mews (also referred to as Adrian Hall Way) sits downtown on Fountain Street and is home to a skate park designed by youths, as well as an informal outdoor performance space.
Soon, a spot near Merino Park that was originally home to the Lincoln Lace & Braid building (razed in 1997) will become what Nilsson calls a "teen adventure park" with biking and parkour, thanks to a DEM grant and multiple partners.

Furry Friends Running Free
Franciscan Park (also referred to as Bell) on Federal Hill welcomes dogs off-leash, as does the Waterman Street Dog Park. Gano Street Park also has a fenced off area for our canine companions, in addition to bike paths.
Keywords
Park Yourself Here,
Amanda M. Grosvenor,
Escape to Providence's 116 – yes,
116 – parks and green spaces,
Providence's 116 parks,
116 parks of Providence RI,
Parks of Providence Rhode Island,
parks of Providence,
Rhode Island parks,
Providence parks,
Dexter Training Grounds,
Wolf Matthewson,
Wildlife Watching,
The Woonasquatucket River Watershed Council,
WRWC,
Olneyville,
Riverside Park,
John Donigian Memorial Park,
Merino Park,
Lippitt Greenway,
Woonasquatucket River,
August is the perfect time to explore Providence's 116 parks,
public spaces in Providence,
Providence Parks Department,
Parks & Recreation Superintendent Wendy Nilsson,
Neighborhood Performing Arts Initiative,
children's Little Libraries,
The Parks Department,
Peace & Plenty Park,
South Providence,
Partnership for Providence Parks,
Helene Miller,
Executive Director Partnership for Providence Parks,
Parks Locator map,
Playgrounds,
Water Parks Summit Avenue Park,
Hope neighborhood,
Joslin Playground,
Burnside Park,
Brandon's Beach playground,
Billy Taylor Park,
Camp Street,
Fargnoli Park,
family parks in providence ri,
family parks in rhode island,
Nilsson,
Amos Earley Park,
Cadillac Drive,
Elmwood RI,
Pearl Street Park,
South Providence RI,
India Point Park,
East Bay Bike Path,
Walking,
Hiking,
Biking,
Sports,
Roger Williams Park,
movie nights,
greenway bike track,
Blackstone Woods,
Wayland Square,
Riverwalk,
Providence River,
Memorial Park,
Rhode Island veterans tribute,
Wanskuck Park,
Wanskuck RI,
is a lesser-North End of Providence,
Bucklin Park,
Dexter Street,
West End of Providence,
Dexter Training Grounds,
Dexter Field,
Cranston Street Armory,
kickball matches,
bocce,
chess,
major playground upgrade,
WRWC Executive Director,
Alicia Lehrer,
West End of Providence,
Lehrer,
Providence RI local parks,
Providence ri parks History,
wildlife,
Neutaconkanut Hill Park,
Silver Lake,
Roger Williams,
Narragansett Sachems,
Roger Williams National Memorial,
North Main Street,
the National Park Service,
Randall Park,
North Burial Ground,
destinations in Providence for history buffs,
skateboarding,
Father Lennon Park,
Smith Hill,
Camden Avenue Park,
Brown Street Park,
College Hill,
parkour elements,
Ascham Street Park,
parkour equipment,
family fun,
Trinity Mews,
Adrian Hall Way,
Merino Park,
Lincoln Lace & Braid building,
teen adventure park in providence ri,
biking,
parkour,
DEM grant,
Franciscan Park,
Bell Park,
Federal Hill,
Waterman Street Dog Park,
dog friendly parks in providence ri,
pet friendly parks in providence ri,
Gano Street Park,
Providence RI,
Providence Monthly,
PVD Monthly,
Providence Monthly Magazine,
PVD RI,
Rhode Island,
Providence Rhode Island,
Pvd monthly magazine,
pvdmonthly,
PVD,
RI,
Providence,
Providence RI,
East Side Monthly,
PVD RI,
Rhode Island,
Providence Rhode Island,
East Side monthly magazine,
East Side Providence RI,
East Side Providence,
East side PVD RI,
East Side PVD,
hey rhody