The best thing about Providence is that a world of art, entertainment, and culture is never more than a stone's throw away. Live comedy and theater, award-winning and cult cinema, literary events and visual arts of all kinds – there's something here for all tastes, and plenty to get you out of your comfort zone. Now that spring has sprung (we think), get out, see a show, and find your new favorite way to spend a night out.

Improv Comedy
Providence may not be one of those mythical comedy towns cranky old comics talk about on their podcasts, but there's a thriving improv scene here. For the uninitiated, improv is exactly what it sounds like – performers get on stage and make it all up on the spot, ensuring that you'll never see the same show twice.

Wage House just celebrated its first anniversary in February. Shows go up every Friday, and feature a recurring corps of improv teams. Kate and Casey, the two-woman team comprised of Wage House's founders, prove that two's a crowd as each performer takes on multiple characters – sometimes in the same scene – in a handful of scenes throughout the set, looping back to earlier story lines without missing a beat. Poolside and Up in the Attic each bring larger casts to the stage, evolving into a kind of high-energy, controlled chaos as players move in and out of scenes or all pile on stage at once. Vox Magna puts a Broadway twist on improv by whipping up an on-the-spot musical comedy with nothing more than a one-word audience suggestion.
In addition to these "house teams," keep an eye out for special shows, like a monthly stand-up night and the Key Party Improv Show, where a handful of married couples in the improv community get mixed into new pairings and get their freak on (comically speaking). Pawtucket

Providence Improv Guild (PIG) puts on three shows a week, with its house teams Seagull Related Fish Fight and Fool's Pudding taking the stage on Fridays and Saturdays. Seagull Related Fish Fight keeps it high energy and physical, and often finds the whole team on stage together. Fool's Pudding mixes things up by including silent scenes and patterns that work so well that sets can seem pre-scripted.
Other recurring performances include Sow What? which kicks off the set by interviewing a member of the audience and spinning a show out of the details from their Q&A, and a monthly "Harold" team, which performs a style of improv developed by legendary performer Del Close, who taught comedy icons like John Belushi, Mike Myers, and Amy Poehler. The twice-monthly Tim Alan Show explores the idiosyncrasies of the performers' daily lives, and a monthly Musical Improv has its players singing through a never-before-seen, opera-style show. Broad Street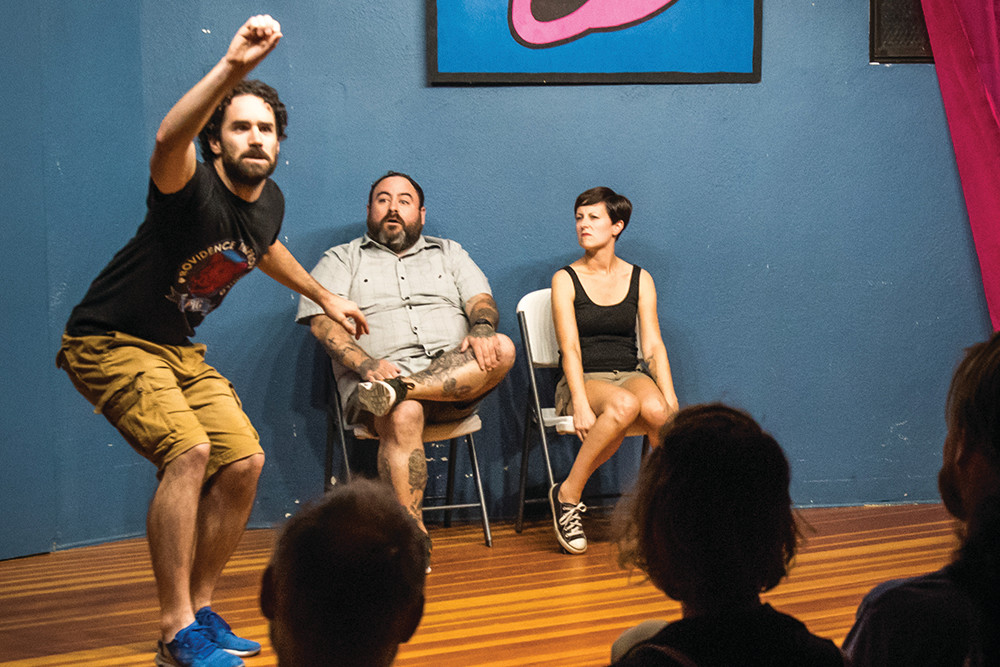 Providence Improv Guild – Photo by Mike Braca

Improv Jones is Providence's longest running improv show, and currently performs every first Saturday of the month at AS220. Since 1992, the group has used established and wholly original styles of longform improv, developed over the years and by the more than three dozen performers who have been part of the team. Empire Street
Theater
The curtain is closing on The Gamm's run in Pawtucket this month with one last production of The Bard – As You Like It, April 19–May 27 – before they pack up and move to a new space in Warwick. Here are seven other can't-miss local productions going up this month and beyond.

Pirates of Penzance at The Wilbury Group, May 17–June 3
An irreverent take on an old classic, this performance by the Wilbury will be stocked with songs, wordplay, and pirates, as well as banjos, beach balls, and guitars. Sonoma Court
Forever Plaid at The Community Players, April 13–22
In this morbidly funny play, four high schoolers in the 1950s form the musical group Forever Plaid and are then run over by a bus on the way to their first performance. Luckily, they return from the dead to pursue their dreams once more. Pawtucket

Zora Neale Hurston's Sweat and The Gilded Six Bits at Mixed Magic Theatre, May 4-20
Mixed Magic Theatre founder Ricardo Pitts-Wiley adapts and directs two short stories written by celebrated African American author Zora Neale Hurston for the stage, each exploring race and relationships in the early-20th-century South. Pawtucket

Festival Ballet's Little Mermaid at The Vets, April 27–29
With choreography from Mark Diamond and music by Borodin, Debussy, and Glière, Festival Ballet brings the classic Hans Christian Anderson tale to the stage. Avenue of the Arts

Menopause the Musical at The Vets, May 10
"Inspired by a hot flash and a bottle of wine," this musical is here to bring "the Silent Passage" out into the open, with a whole bunch of pop song parodies and lots of celebration. Avenue of the Arts

Native Gardens, April 5–May 6, and Ragtime, April 26–May 27, at Trinity Rep
When two couples start to disagree over their back gardens, there's room for a lot of ill will to grow. Native Gardens is a comedic take on the little things that can blossom into big messes. The classic musical Ragtime, written by Terrence McNally and based on the novel by E. L. Doctorow, examines three characters at the turn of the 20th century as their lives intersect in consequential ways. Washington Street

Thinner Than Water at Burbage Theatre Company, April–May
Three siblings reunite at the sickbed of their father in this intense production about the challenges of dealing with family. Pawtucket
Literary Events
These aren't the cliched book clubs of suburbia. Here you get challenging, curated reads from people who know what they're talking about, as well as a chance to get up close and personal with the minds behind them.

Riffraff Bookstore Bar is where you go to find good books and have yourself a fancy cocktail. Both the liquid and literary inventories are finely curated, so don't expect to find the Bud Light of books or the trashy romance novel of booze here. For those who prefer not to read and drink alone, they host two monthly book clubs – one for fiction (April 4) and one for non-fiction (April 18). April book selections are TBD, so keep an eye on their website. Valley Street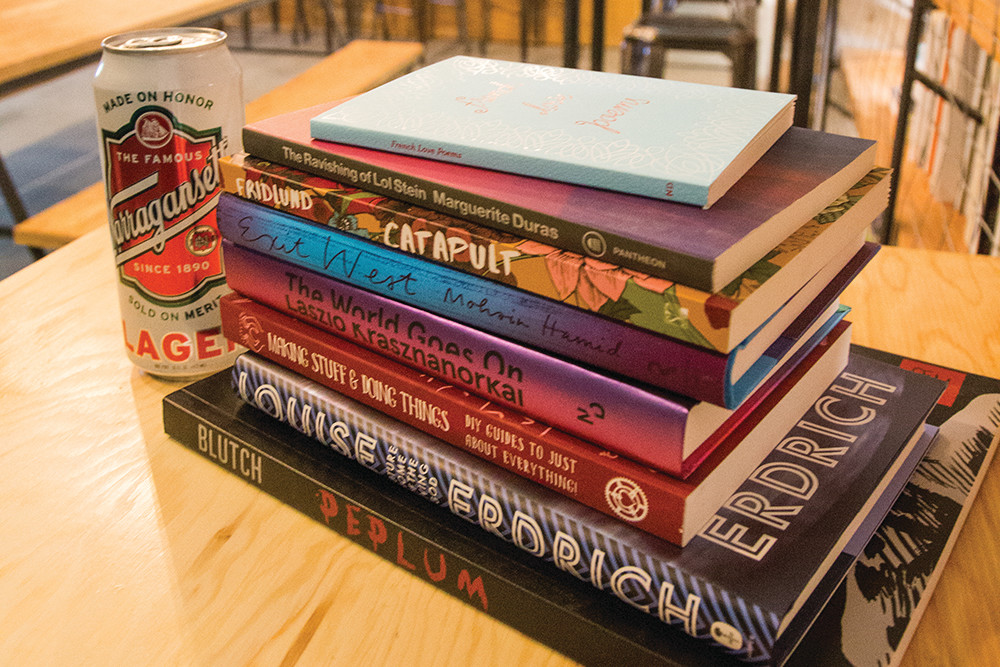 Riffraff Bookstore Bar – Photo by Tony Pacitti

The Point Street Reading Series brings a panel of authors to Alchemy on the third Tuesday of the month for a lively discussion between word nerds and the pros behind the prose. April's event is loaded, with authors Mary Moris, Rebekah Frumkin, Anya Yurchyshunm, Rebecca Harrington, and Leah Stewart coming to town. Richmond Street
The Providence Athenaeum's Friday Salon Series brings authors, thinkers, and artists to the historic library to discuss a range of topics. This month, hear about the legacy and vision of the RISD Nature Lab's founder (April 6), listen to Tom Hennes discuss his work at the 9/11 Memorial Museum in NYC (April 13), and join award-winning poet Major Jackson for the 20th annual Philbrick Poetry Reading. Benefit Street
Movies
Providence is a film lover's city: two single-screen art house theaters, a larger format IMAX screen for big budget spectacles, a drive-in and pop-up outdoor screenings in warmer months, and a handful of curated film series. Now that the biting cold is behind us, it's time to chill with the Netflix.

Avon Cinema has been screening films the way they're meant to be seen for 80 years. Expect the usual indies, prestige pictures, and Oscar bait throughout the year, but keep an eye out for the occasional screening of stone cold classics that pop up on occasion. Bonus points for the vintage "Let's all go to the lobby" promo before each screening. Thayer Street

Cable Car Cinema and Cafe also scratches that indie flick itch, though they tend to skew a little weirder (in a good way) than the Avon. Lots of documentaries hit the screen, plus annual fests, like the Providence French Film Festival and the Art and Design Film Festival. Current events have played into some classic screenings over the last year: think The Great Dictator and Terminator 2: Judgement Day. South Main Street

The Columbus Theatre doesn't always screen movies, but when it does it's worth clearing your schedule. Last year saw the Columbus Film Club run a curated series of films focused on classics with contemporary relevance and female directors, but music docs and the occasional midnight movie have shown up on the marquee too. Broadway

There are cinematic deep cuts, and then there are the culty oddballs that the Dreadphile Cinema Club digs up. For the "so bad it's good" crowd, expect to see this Z-grade film series pop up whenever anyone will let them show movies with titles like TerrorVision, Motel Hell, and Death Spa.
Galleries
They don't call this town the Creative Capital for nothing. See exciting works from local artists and makers, as well as art from around the world in the city's galleries, museums, and studios.

Skye Gallery on Broadway opened in October with a mission to support and exhibit fresh, emerging, and underrepresented talent. Its March show, "Divine She," featured the paintings and drawings of five female artists, and this month, Skye will be hosting the work of Brett Cimino, through April 20 with an opening reception on April 6. In May, the Peruvian-born, Rhode Island–based artist Peruko Ccopacatty, whose 20-years-in-the-making public art installation is currently up in Kennedy Plaza, will be showing paintings, drawings, and sculptures at the gallery. Also on Broadway is World's Fair Gallery. Run by Willa Van Nostrand of Little Bitte Artisanal Cocktails, the gallery and pop-up space serves as an intersection of culinary and visual arts. Broadway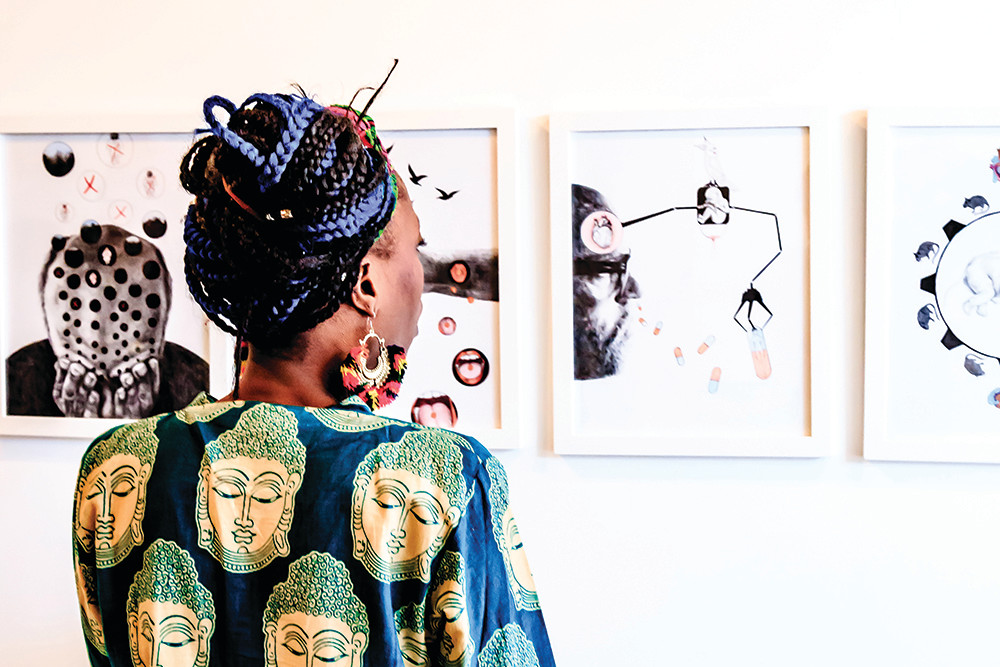 Skye Gallery – Photo by Small Frye Photography

New Urban Arts, the West Side out-of-school art program for high schoolers, is turning 21 this month, and will be celebrating with a 21+ birthday bash and silent art auction on April 20. Featuring the work of talented local artists, proceeds from the night will fund NUA's mission to provide a safe, nurturing environment for the city's next generation of artists. Westminster Street

Trade Pop-Up in Fox Point hosts exhibits, retail shops, and performances on a rotating basis, with an eye towards empowering artists and bringing together communities. This month, check out "Prince of PVD" (April 5–8) which presents the work of Providence-based artist and producer Cam Bells; "Crown HD" (April 12–15), which will feature new art, photography, and apparel from a high school student–owned company; and "Wounds to Wisdom" (April 19-22), a solo showing of the poetry and paintings of Kyla Laughlin. Governor Street

Gallery Night Providence returned in March for another season of gallery and studio tours in and around downtown every third Thursday of the month – April's his Gallery Night will be on April 19. Looking to hop on the tour bus or explore on your own? Here what you need to know:
22 Years Gallery Night has been showing visitors the city's abundance of artistic riches
19 Galleries – including exhibition spaces at City Hall, ArtProv Gallery, RIC, RISD, URI, AS220, and Big Nazo's studio – that participate in the tour
4 Busses that leave from One Regency Plaza throughout each Gallery Night for guided tours of galleries, studios, and exhibits
0 American dollars it will cost you to see all of the above