Donuts and bagels have been around forever, and for a proverbial dime a dozen. So how are four local businesses taking the grab-and-go breakfast by storm at a higher price point? By challenging the notion of what your nosh is.

Just a few years ago, meeting at a donut shop meant a cheap breakfast in a sterile space. Chances are, unless you arrived at the crack of dawn, your donut would be a bit stale with coffee to match, and if you wanted cream cheese – it was plain, maybe with chives if you were lucky – provided in a small to-go container with a peel-back foil lid. Not quite the schmear of which dreams are made. Even here in Providence, a city famous for foodie culture, specialty and artisanal donut and bagels shops could not be found. However, a new team of entrepreneurs has risen to the occasion, and quicker than instant yeast.
On any given weekend morning on the East Side, you don't need an app to locate hot-spots KNEAD Doughnuts, Providence Bagel, PVDonuts, or Rebelle Artisan Bagels. Simply follow the serpentine file of early-risers eagerly willing to commit to the line for a fresh hand-held product – while supplies last, that is. And unlike large chains, which run on quantities with pre-fab food from sources unknown, this quartet of locally owned establishments values quality and providing a mission-driven customer experience along with a nice place to sit. "Everything is made fresh daily on-site," says Chris Wietecha, owner of Providence Bagel, citing there isn't even a freezer at his inviting place on 695 North Main Street.
They say that ideas are in the air, and this seems to be the case for the brains behind each operation who took residence of their retail spaces not only in close proximity but timeline, all opening between 2016 and 2017 and within a square mile of each other. There's husband and wife Lori and Paul Kettell of PVDonuts; the team of owners at KNEAD Doughnuts lead by Adam Lastrina, formerly of Seven Stars fame, Wetherly Rouleau, and Bolt Coffee co-founders Bryan Gibb and Todd Mackey; Milena Pagan of Rebelle Artisan Bagels; and Providence Bagel's Wietecha.
Most of the origin tales are the same: driven individuals with dreams of owning businesses that would fill a need with a smile-inducing product while providing an opportunity for reinvesting into the communities served. Time and time again, research lead these industrious types to ask the culinary question: Why are there no ___ places in Providence, where ambience is just as important as quality? Says Pagan, "When I lived in Brooklyn, I liked how there are places for each thing. I bought my fish from a fishmonger and my bagels from a bagel place." After relocating to Providence, Pagan wasn't getting much of an answer to her question: "Where's a good place to enjoy a bagel with cream cheese in the city?"
So, 28-year-old Pagan did what most MIT-grads raised in Puerto Rico working in corporate merchandising would do: she learned how to make bagels herself. She even learned how to cure smoked salmon for that quintessential bagel topping, lox, and once she perfected a basic set of recipes, scaled-up and set-up pop-up shops baking bagels on-site to a tremendous response. Overwhelmed and overjoyed, Pagan knew she was on to something.
"Rhode Islanders want to know where their food is coming from," says KNEAD's Lastrina, who adds that it's "good quality food from scratch and customer service that are essential ingredients, not volume. We're not trying to be everything to everybody," he says of his menu which doesn't stray far from donuts with pop-overs and muffins. He is also quick to credit his staff of thirty for KNEAD's success: "They crush it every day."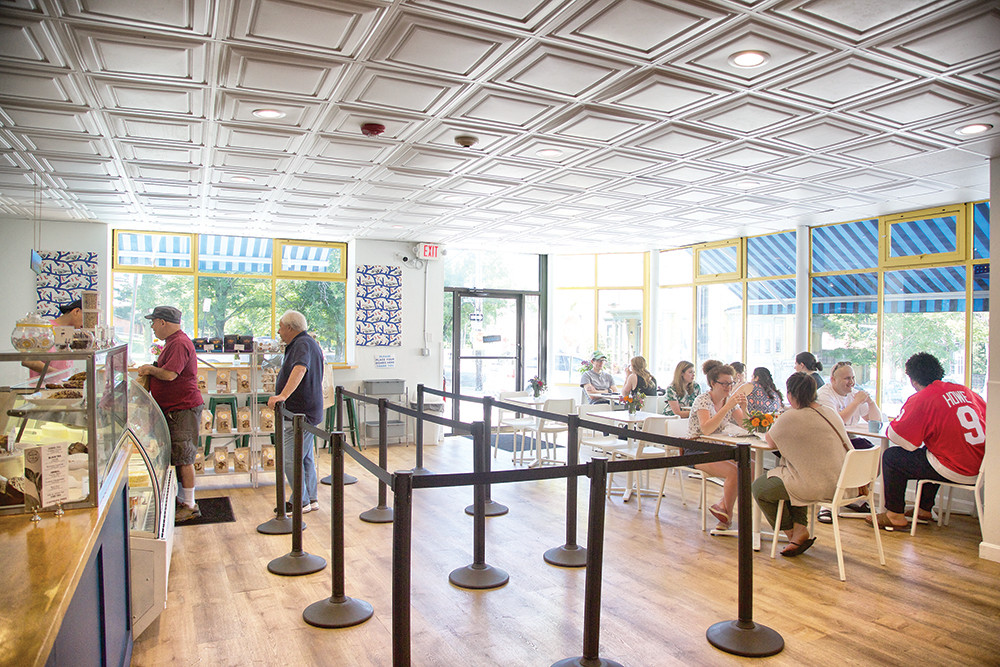 Rebelle Artisan Bagels, photo by Michael Cevoli
There's nothing worse than standing in one of these weekend lines only to come face to face with a "Sold Out" note posted to the glass. However, it seems that running out of product is not a marketing ploy for this gang, it's more about efficiency. "We take many steps to reduce waste and forecast as accurately as possible," says Pagan, referencing her baking team's many spreadsheets. Providence Bagel's Wietecha agrees: "We really don't want to run out." And for those occasions when these businesses do over-produce, food rescue efforts go to local food pantries.
While the location of each of these businesses is inarguably prime real estate, the once-abandoned properties themselves were not and required generous helpings of sweat equity. When scouting for a second location, parking was a must for KNEAD (it's an issue at their 32 Custom House shop downtown). 135 Elmgrove fit the bill but had sat vacant for nearly twelve months with significant water damage. "The space was a disaster and represented a lot of work, but we were able to see through it all and knew the building had good bones," says Lastrina. It was all hands on deck removing multiple layers of flooring and paneling which revealed prized hardwoods and brick walls, even stools from blast-from-the-past inhabitant Bagels East were discovered in the basement and put to use in the children's "bake shop" play area. Similarly, for their bagel shops, both Wietecha and Pagan use the phrase "total gut job" when retelling the stories of how their now-fresh, light-filled cafes came to be.
In addition to transforming their interiors, each business has contributed immensely to the walkability of their surrounding neighborhoods. The small commercial strip on Elmgrove Avenue has long been known by East Siders as a shaded destination for lunch and specialty shopping but the Doyle Avenue convenience store where Rebelle now stands, had a shady reputation. Pagan explains, "This had been a storefront with those metal roll-down security doors. The landlord's wife spotted what I was doing on Instagram and introduced me to the property. She didn't want another convenience store, she wanted something different." Securing a retail space was initially further down the list on Pagan's business plan but when the offer presented itself decided to throw herself in, "It's the best way to learn" she muses. Today, with an exterior boasting blue striped awnings, bistro tables and chairs, and hanging flowers, this once nondescript corner is brimming with charm and bustling with foot traffic and bicycles.
Social media has played a large role in connecting admirers and customers to these start-ups with no purveyors savvier than the Kettells of PVDonuts. The couple skillfully wielded tantalizing images to create a fever-pitch frenzy over the roll-out of their specialty donuts. Snaps of hefty spheres drizzled with glazes and ganaches and topped with crushed cookies were posted to Instagram with pop-up location announcements devoured by a growing fan base. Sans traditional press release, when PVDonuts instead shared via post that they would be taking residence at Sin Cakes on Allens Avenue on May 28, 2016, they were greeted like rock stars with many hundreds of likes and a line of sleepy hipsters that spanned the busy motorway best known for metal scrap and strip clubs. And those lines continued – starting each day around 7am – until they opened a place of their own at 79 Ives Street, just off Wickenden Street.
"When we first had the idea of the donut shop, we knew right away we wanted to be on the East Side. It just has that homey feel that we wanted our donut shop to be a part of. The community is so welcoming, and since day one we knew we belonged here," says Lori Kettell.
Two years later, and with a roster of national acclaim which includes Food & Wine and Cosmopolitan, PVDonuts is expanding in their own location. "We have been working in a 200 square foot kitchen and will be moving it to the building next door which is three times the size," explains an excited Kettell who plans to turn the existing kitchen into additional seating. Meanwhile team KNEAD – who Travel and Leisure recently declared the best donut in Rhode Island – is busy putting the finishing touches on a room soon available to rent for meetings and small gatherings. Providence Bagel is building from the ground-up on Mineral Spring in North Providence with their sights set on building a regional chain; the only of the four businesses with a drive-thru, this after-thought feature now accounts for 30 percent of business. With her bagel business booming, Pagan also has expansion on her mind.
What seems to be missing is any cut-throat competitiveness one might glean from Dunkin' Donuts running Krispy Kreme or Tim Horton's out of Dodge. Says Lastrina, "There's room for everybody at the pool. People can't eat a donut every day." It's not uncommon on a busy Saturday for Lastrina to call Pagan or Wietecha to suggest a breakfast swap for the entire staff, donuts for bagels. "We co-exist," he explains. Rebelle's Pagan agrees, "It's a small town and everyone is very friendly."