"I've been living solely off my art since 2005 as an independent writer, performer and musician."
This is a bold statement to make in 2018.
Given the way art is consumed in our current digital Wild West, to be living solely off of created work to the quality of art created. B. Dolan – a Providence-based rapper, musician, and screenwriter – is the kind of person who can make the term "artist" work as a personality trait and as a job description.
As a true renaissance man, B. Dolan has worked on a diverse array of projects since first emerging as a slam poet in New York City in 2002. Since that time, he has recorded hip hop albums, EPs, mixtapes, worked on films, and even ran a consumer activist website called KnowMore.org. Earlier this year he released Epic Beard Men Season 1, an EP with frequent collaborator and partner in rhymes Sage Francis, and together they're finalizing a follow up full-length release. Currently he's scoring the locally shot and produced film Vault, which he also co-wrote. Between all that, he managed to find the time to take Epic Beard Men on the road with Sage for a tour that took them all across the US and as far as South Korea.
In order to make it as a working artist, B. Dolan has had to be adaptable. "I've been fortunate enough to run into lots of talented people along the way who were looking for a writer or open to collaborating," he says. "It also helped that I had a policy of 'never say no to any paid or interesting writing work' for well over a decade. These days I have the ability and need to say 'no' to projects, but I'm still saying 'yes' to what interests me on all fronts."
A lot of artists can multitask, but the volume of quality work that B. Dolan puts out is notable. His work with Sage Francis on Epic Beard Men – a moniker Dolan likens to Beyonce and Jay Z's "The Carters" but way hairier – presents some of their best work. "Aside from guest spots, those are the only songs either of us have been working on for the past three years," he says. "We're in our last week of recording [the LP] as I say this, and I am beyond excited for how it's all come together. Both of us have made some of our favorite songs we've ever been involved with as part of this album, and sonically I couldn't be happier."
Epic Beard Men represents a more light-hearted side for Dolan and Sage, whose solo albums often carry serious political and social messages. "Sage is my actual best friend in real non-rap life," Dolan points out, "So that definitely informs the feel of the whole project. We're both very serious, think-until-it's-no-longer-productive type guys, whose thoughts often wander to very dark places in isolation. There's still some of that subject matter when we write together, but there's also the presence of a friend in the process, so it stays somewhat looser and funnier. I think that comes across in the music and on stage. It's a good time to add that lightness or lift, if you can. Life is heavy enough for the people in the audience right now."
Since returning from tour, Dolan has been hard at work scoring Vault, which tells the story of 1975's infamous Bonded Vault Heist in which a group of men broke into the Hudson Furs Vault, the "unofficial bank" for the Patriarca Crime Family, and made off with upwards of $30 million dollars worth of valuables. The film is being produced by the East Greenwich based Verdi Productions, and Dolan co-wrote the script with another frequent collaborator, local writer-director Tom DeNucci. Filming took place in Providence earlier in the year, and the cast includes Sons of Anarchy's Theo Rossi, Orange is the New Black's Samira Wiley, and A Bronx Tale's Chazz Palminteri as Raymond Patriarca.
For Dolan, writing scripts for movies has been a kind of antidote for writer's block and this current project is no exception. "I was originally approached by Tom DeNucci, who I've written a number of movies with, about the idea that became Vault. As soon as he asked 'Have you ever heard of the Bonded Vault Heist?' I laughed and said yes to the movie. I didn't need to hear another word," Dolan says.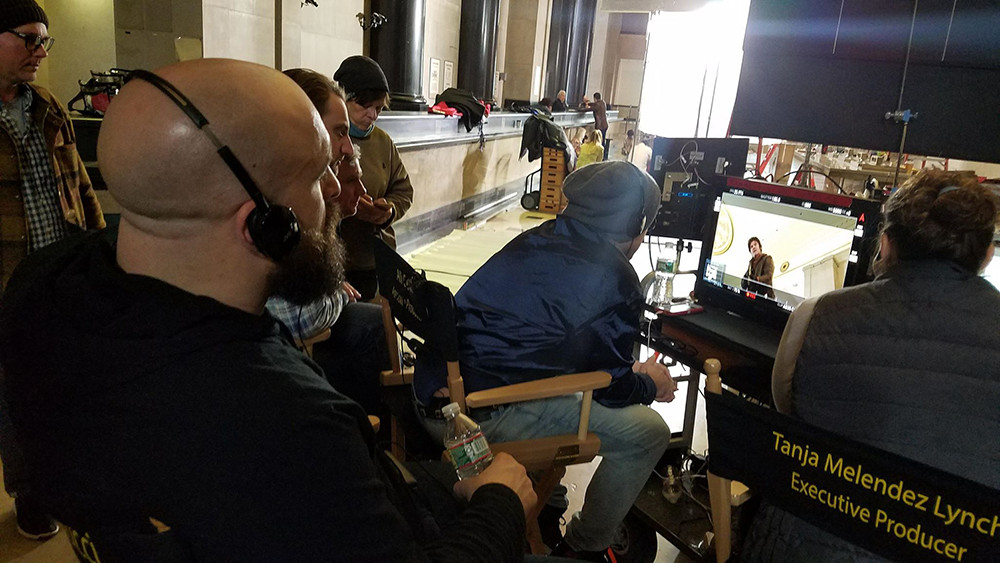 B. Dolan on set during the filming of Vault in Providence. Photo courtesy of B. Dolan
Work as a collaborator on Vault helped Dolan to let go of some control over his work. Where he might obsess over the placement of a comma or breath in his own music, co-writing afforded him the opportunity to "let go" of his part and see what other artists make out of his blueprint.
"The process of co-writing these movies basically involves bringing pages to Tom in chunks or acts, sitting and getting notes, and returning to the drawing board, doubling back, and fleshing out," he says. "As the director of the film, Tom's often making me aware of production obstacles I need to either steer clear of or steer straight into because it's something he wants to include. I've learned that once everything is in motion, the writing is also subject to change. Tom will often add or subtract scenes and dialogue throughout the process. In the case of Vault, Chazz Palminteri improvised a whole monologue in one scene that doesn't exist in the script."
An inescapable part of the B. Dolan persona is his engagement as an activist fighting for social justice and corporate responsibility. An investigation he launched through his now-defunct website knowmore.org on American Apparel then-CEO Dov Charney even resulted in Dolan being called to testify against him in a sexual harassment trial. Whether it is through his writing or his music, Dolan uses his platform to comment on the things he finds unjust in society. However, between the light-hearted persona of Epic Beard Men and his work on Vault, some of B. Dolan's more outspoken tendencies have taken a back seat to allowing his known views to speak for themselves.
"While those things are part of our worldview and are always going to be present in some respect, the current crop of Epic Beard Men songs avoids obvious engagement with those things. [Sage and I] have already made it pretty clear where we stand on issues of social justice. For over a decade, while we were pigeonholed and labeled 'preachy' for focusing on those things, while others in our genre were busy chasing 'cool'. We were classified and often dismissed by the music industry as 'political rappers' because we dared speak clearly and urgently on political issues in some of our songs," Dolan explains. "These days every rapper is political, just like everyone with a Twitter account is an activist. Everyone's commentary is happening at the same time, yet somehow things are not getting better."
That doesn't mean they are any less angry. Dolan goes on to point out that, "the current social climate represents a kind of 'mask off' moment to our generation, I think. No one can deny what's happening. No one really needs to be told. You're either Big Mad or you're little mad, or not mad at all. Should we make a rap song about the child detention centers in Texas? Or should we raise and send money and support to those working to close them immediately?
"There's a time for rap and there's a time for action. If you need more convincing at this point, I don't have many songs left to sing you."